Store Closing!!! All Sales Final.
Login
Log in if you have an account
Register
By creating an account with our store, you will be able to move through the checkout process faster, store multiple addresses, view and track your orders in your account, and more.
Create an account
Thank You from The Curious Crafter
07 Oct 2020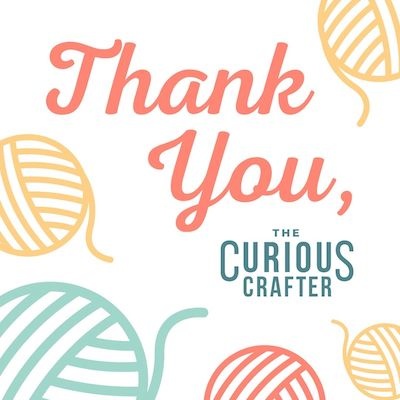 Dear Friends,
The day has come for us to shutter our doors. We've sold all the yarn, and the notions and books are gone. Store fixtures have made their way to new homes. We've packed up and cleaned up, and soon the sign on the building will come down. It is a sad time for us at The Curious Crafter, but we are filled with gratitude and pride of what we built together in our short time in St. Louis.
We are grateful for YOU, the amazing Knitters, Crocheters, and Crafters that made up our fiber community. Whether you joined us for a class, knit night, shopped in the store, or liked our posts, we are grateful for your support and help in creating an environment that fostered creativity, connectivity, diversity, inclusion, and most importantly warmth and acceptance.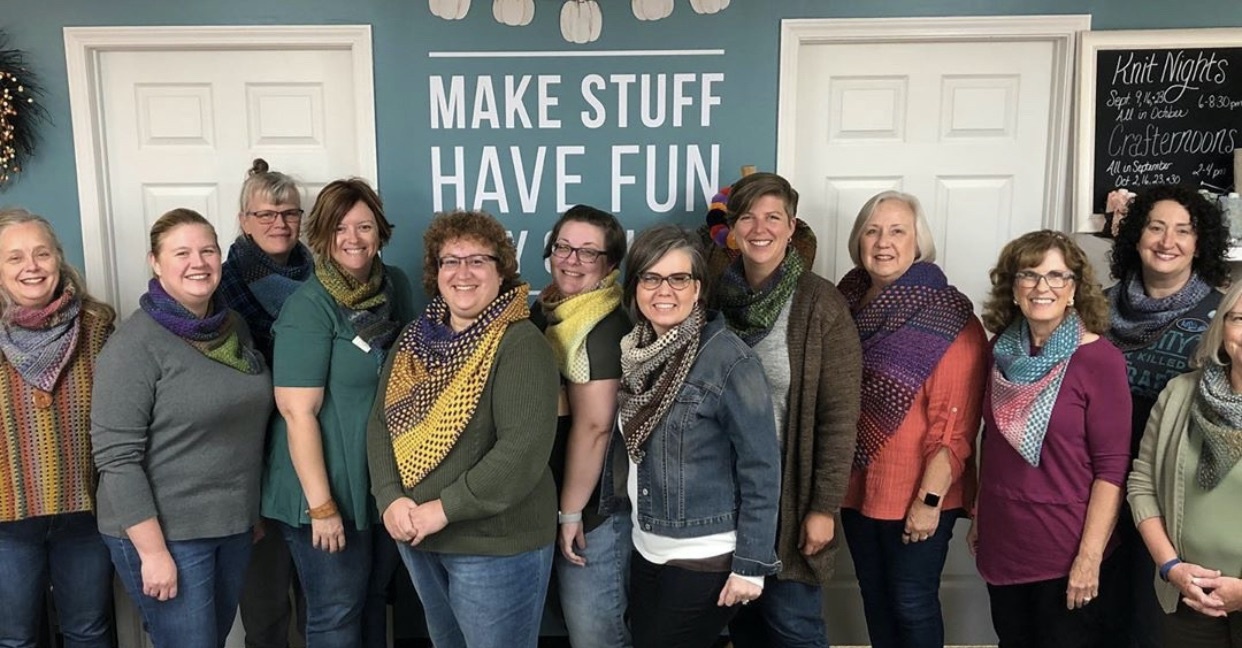 Photo: Shift Into Fall KAL Party
We are grateful for the Independent Dyers we were so proud to carry in our shop. Indie Dyers like Hedgehog Fibres, Oink Pigments, LolaBean Yarn Co., Round Mountain Fibers, Emma's Yarn, Farmer's Daughter Fibers, Wonderland Yarns, Three Irish Girls Yarn Co., and SweetGeorgia Yarns. We are thankful also to our local Indie Dyers, Honey Girl Farms and Lowlander Yarn Studio. The yarns from all these artists filled our shop with unique, high-quality, beautifully colored yarns, and a spirit of entrepreneurship. We were thrilled to be part of a movement that supports and celebrates woman-owned business.
We are grateful to the many gifted designers that we featured in our shop. From Knit-A-Longs to Newsletters, these artists leant us their talent, photographs, and support.
The Shift Into Fall KAL was inspired by The Shift Cowl and Nightshift by Andrea Mowry. We had so much fun with the Soundtrack KAL and Elizabeth Smith's pullover sweater, Soundtrack. Tamy Gore worked with us to create shawl kits that we sold in the store - The Drifter and Knitnight. And a big shout-out to Casapinka! (Ravelry Link) who seeing the need in the LYS community, generously created not one, but TWO beautiful shawl patterns, that yarn shops could use to sell yarn during the most challenging moments of the pandemic crisis.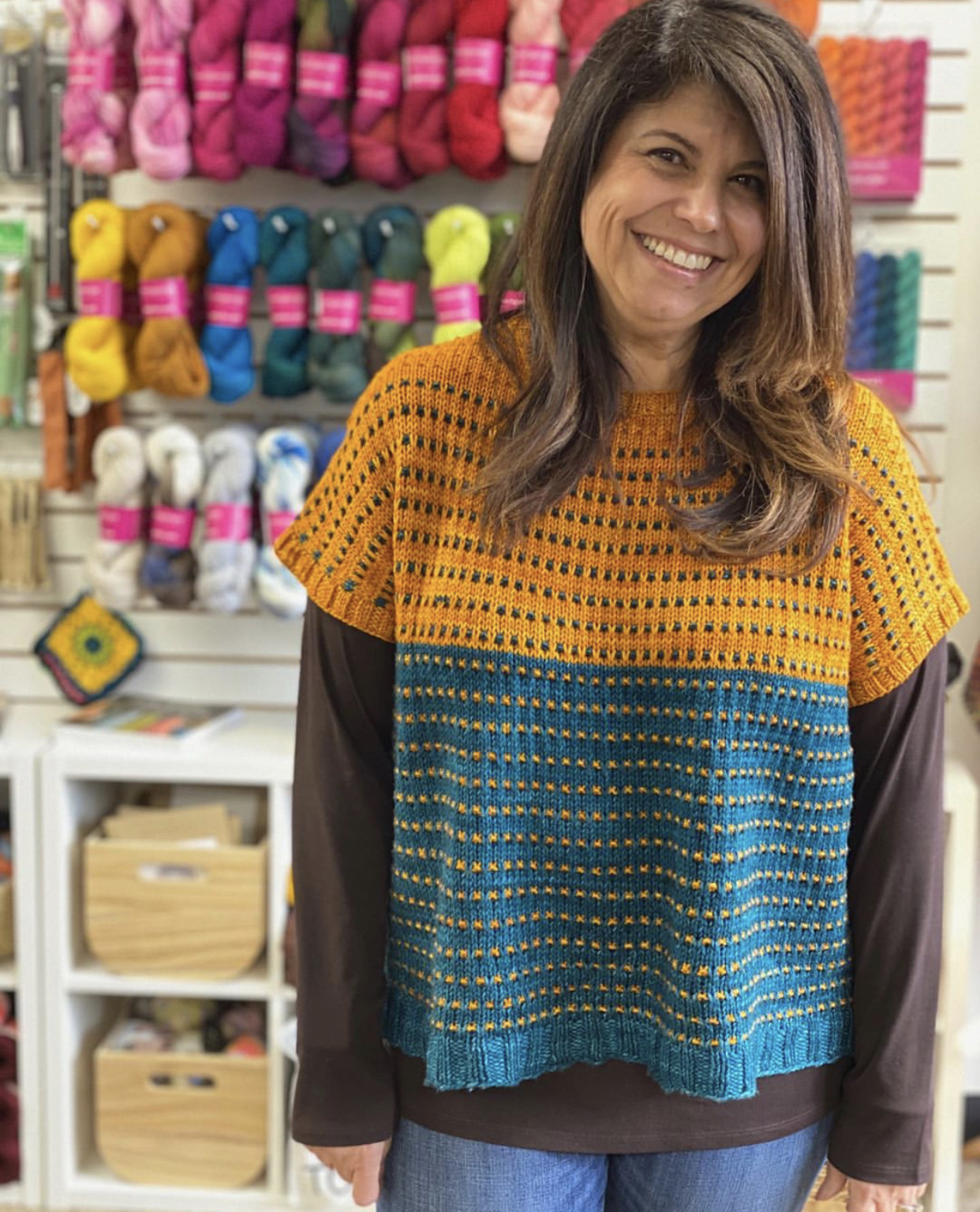 Photo: Dolores in her Soundtrack Sweater
Also, a big thank you goes out to Tanis Gray of TanisKnits, who was so gracious about cancelling her classes with us during this pandemic and our shop closing. She is now teaching remotely, giving you the opportunity to take one of her many excellent classes! Follow her on Instagram for new pattern and class updates!
We also want to thank the yarn companies and yarn representatives who have worked with us over the past year. Customers loved the yarns we carried by Malabrigo, Urth Yarns, Cascade Yarns, Plymouth Yarns, Sirdar, Rowan, Universal Yarns, Berroco, Amano Yarns, and Kelbourne Woolens. Thank you also to Bryson Distributing for being so supportive and wonderful to work with.
There are many other dyers, designers and yarn companies that we are grateful to - too many to mention here. Our yarn shop stood on your shoulders.
Thank you to Sandy of Knitorious, who was generous with her time, wisdom and support. Nancy of The Weaving Dept., whose kindness and generosity of heart will be with me always. Abbi and Hanna of The Bead Place, who also shared their wisdom and support. We had so much fun organizing the two Summer's Last Blast Yarn Crawl events with these wonderful businesswomen, and we were so privileged to be a part of this annual event.
I hope everyone will continue to support The Weaving Dept. and The Bead Place. It is so important to support our local businesses. When the pandemic is over, your support of these LYS's during this time will ensure you will have a place to shop, learn, and gather with other folk who share our love of yarn and craft.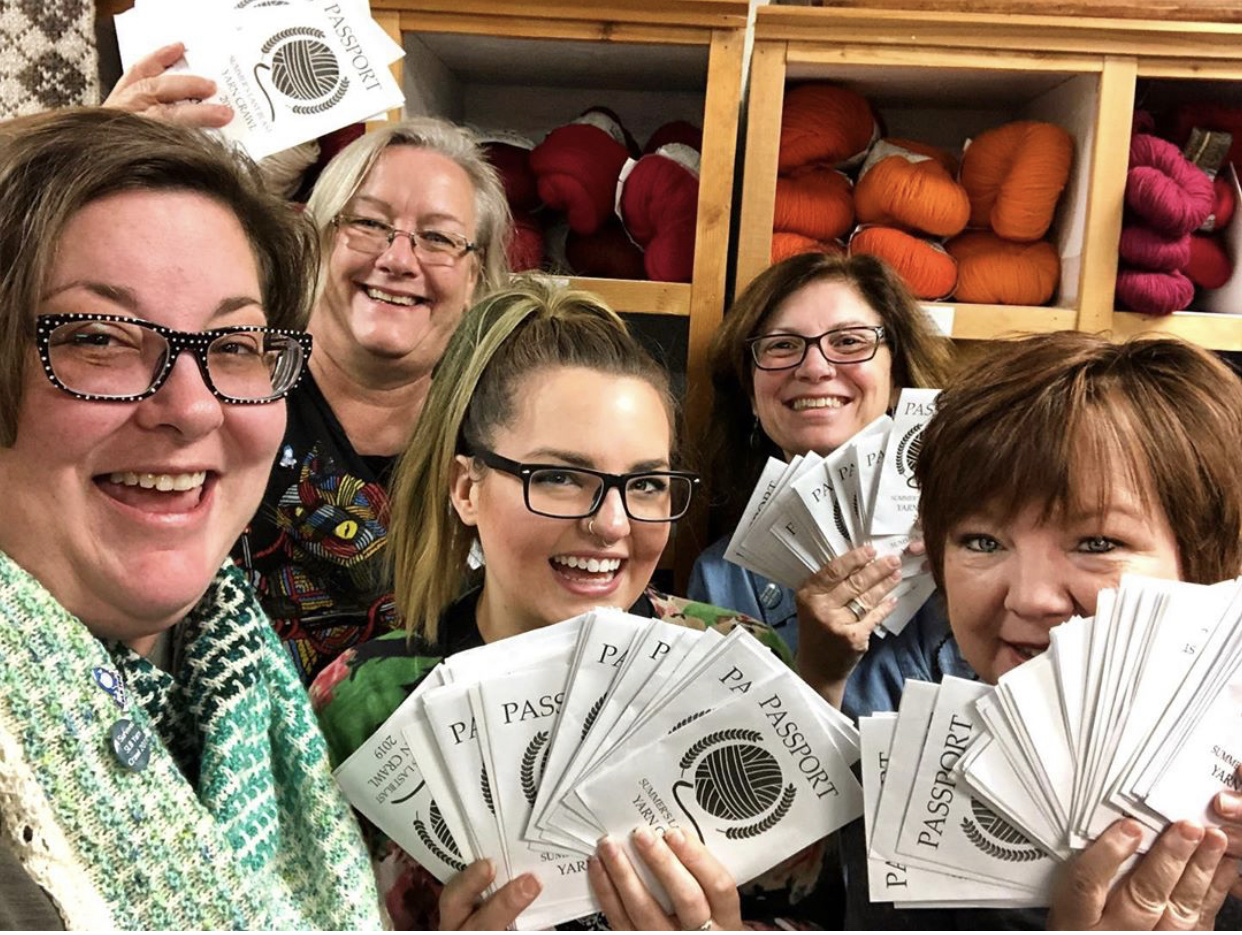 Photo: Casey, Sandy, Abbi, Holly, and Hanna Drawing for Winners of the Summer's Last Blast Yarn Crawl.
So many of you have sent warm wishes and shared stories about The Curious Crafter, we have read every note and every comment. I am overwhelmed with the good will you have sent this way. I recently read a comment from a customer who said,
"The first time I came into your shop, ... I was very pleasantly surprised at how welcoming your shop was. I felt immediately at ease and was able to browse with as much or as little help as I wanted. Thank you so much for creating such a welcoming place!"
This is exactly what we set out to do. We wanted to make a place where anyone who walked in the door felt welcome. Whether you were an experienced knitter or someone interested in learning a new skill, or somewhere in between, our mission was to make you feel at home, and to share our passion for knitting and crafting with you.
This mission was accomplished by our The Curious Crafter Team. The women who worked at the shop, the staff, instructors, social media support and photographer, made it what it was. I will miss that camaraderie most of all. Sue, Amy W., Casey, Zoë, Carla, Jenny, Sarah, Vicky, Beth, Katie, Julie, Amy K., Michele, and Dee were the Crafty Dream Team. I learned so much from each of these remarkable women, they lifted me up every day. Through the process of closing these last weeks, Amy and Casey have done the heavy lifting to help wind down the business. The transition was made smoother and lighter because of their dedication. This dream team has my undying gratitude.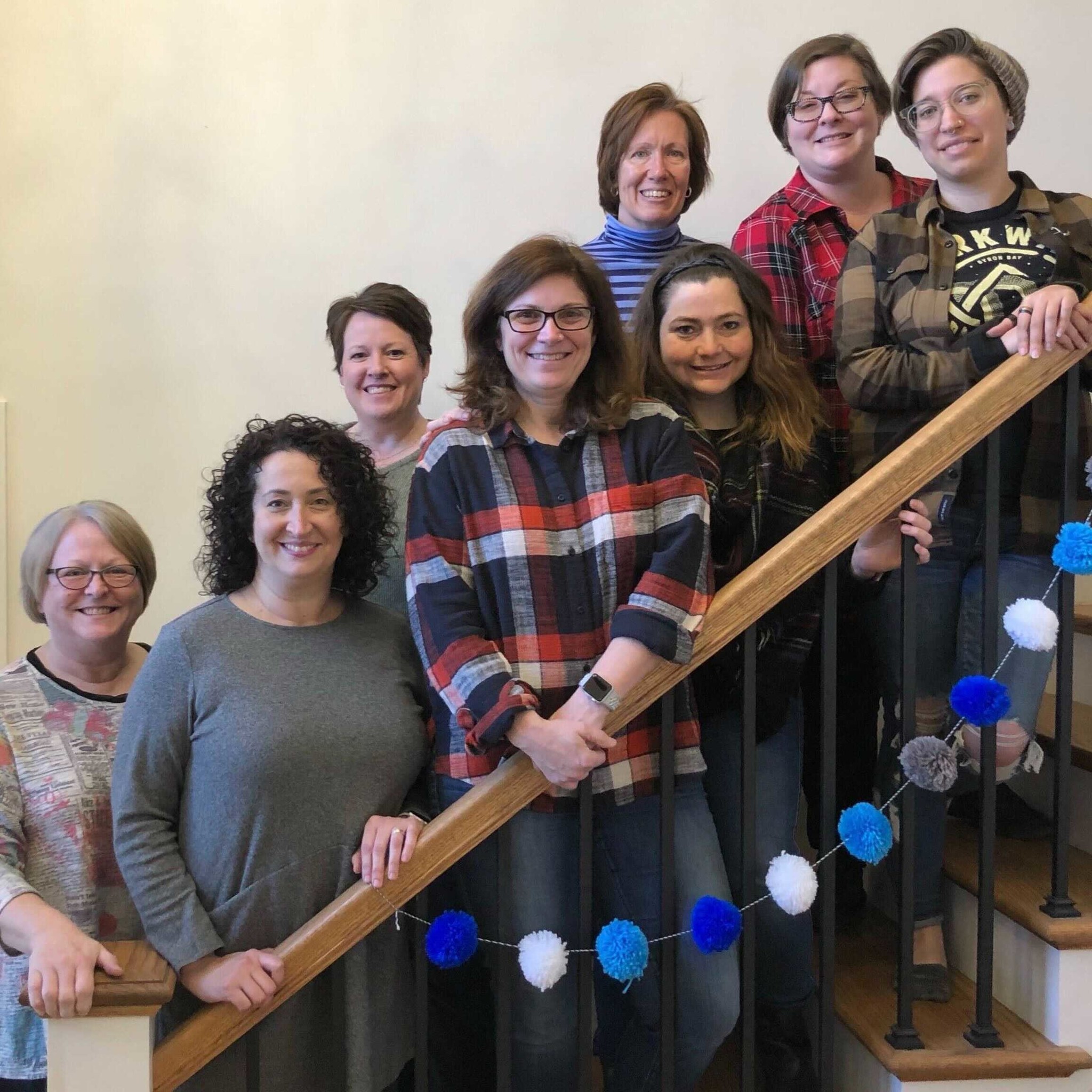 Carla, Amy W., Jenny, Holly, Amy K., Julie, Casey, and Zoë

I hope to stay connected to you all, keep posting your projects and crafty experiments! Stay tuned to Tangerine Designs - Casey's knitting design, instruction, and fiber accessory company. Keep shopping at The Weaving Dept. and The Bead Place. And as always,
Make Stuff. Have Fun. Stay Curious!
Holly